Allie & Brian | January 4, 2019
Brian and I circled each other for years. He likely served me coffee at Caffé Driade when I was in undergrad, we lived within half a mile of each other in Chapel Hill, and shopped at the same grocery store.
In 2015 I started going to yoga at The Durham Hotel, thanks to Jessica Collette of La Vita Yoga. I had sworn off setting foot in the hotel for various reasons, but the prospect of $10 yoga was too good. So I went and sporadically ate breakfast in the coffee shop downstairs, using the big open space to write in my journal and chuckling at being in a fancy hotel in sweaty, holey yoga outfits.
In September of 2016 I was re-entering my practice after a very painful year, both emotionally and physically. I had stopped into the hotel for a tea after a slow day of work in my office. Brian, the barista whom I always found nice (and now suddenly seemed very attractive) offered me a second steep. It wasn't out of the ordinary, because everyone there is always kind, and because I had "SWORN OFF DATING FOREVER." Yes, I'm a cliché. He added me on facebook that evening. I noticed our mutual friends were folks dear to me, that he loved karaoke, and yes, he was very attractive. Still, I didn't think much of it.
Emboldened by goddess knows what (likely the burst of energy I get from celebrating Halloween), I began to flirt with Brian, drinking my beverages right at the bar instead of across the coffeeshop. I found him funny, kind and smart, and very unlike the mediocre men who were taking up too much of my time and all of my emotional labor. I found a way to get him to ask me out: I told him I was going to check out Discotoño play a set at Arcana. Brian took my "in," and offered to join me.
Hours before this meeting I went to a friend's house to help another friend carve her first pumpkin. I take my responsibilities as Queen of Halloween very seriously, so I was running pretty late to Arcana. I messaged Brian to say that I was half an hour behind, not because I was trying to play it cool, but because I really had to carve a pumpkin. I arrived still not believing it was a date, as again I had promised myself to not date ever again. In contradictory fashion, I was also working on a list of all the things I needed in a partner, thanks to Kamara Thomas, who told me that perhaps I needed one more spell.
So that night, October 9, 2016, I walked up to the bar to the handsome man wearing a brown shirt with white polka dots. And then I KNEW. We talked for hours, learning things about each other that felt both new and familiar.
We haven't stopped meta-processing since. Real finds real.
That morning we awoke, full of love and smiles, and took our time. We lounged, enjoyed our coffee, and looked forward to the day ahead. We nibbled on a breakfast casserole we had prepped, not wanting to get too caught up in the kitchen, and began to get ready for our elopement. We sequestered ourselves in separate rooms and said goodbye for now.
Allie's sister, Autumn, and her maid of honor, Julia, joined her to help her prepare. My best man, Brad, came over to dust off my shoulders, trim my beard, and keep me calm.
As we got close to 2pm, Brad took me over to The Durham Hotel rooftop to meet our photographer Jessica. I anxiously awaited Allie's arrival, and a short while later my beautiful bride-to-be appeared and joined me.
We smiled and kissed and danced in each other's love, and shared our vows in a beautiful intimate moment overlooking our city.
Julia shuttled us over to the courthouse, and we assembled with a magistrate that made our love and union official for the rest of the world. We had made it so long before this day.
Jessica took some more beautiful photographs of us all, and we came back home to take a breather and sip on bourbon. From there we went to Morehead Manor for an incredible six course meal prepared and presented to us by our wonderful and talented friends, Harry and Pam Monds.
After indulging our appetites and our senses, we paid a visit to Accordion Club, our neighborhood watering hole, where we continued to celebrate with friends until the witching hour.
We returned home once again, this time as husband and wife.
Photographs by Jessica Fowler of Three Region Photography.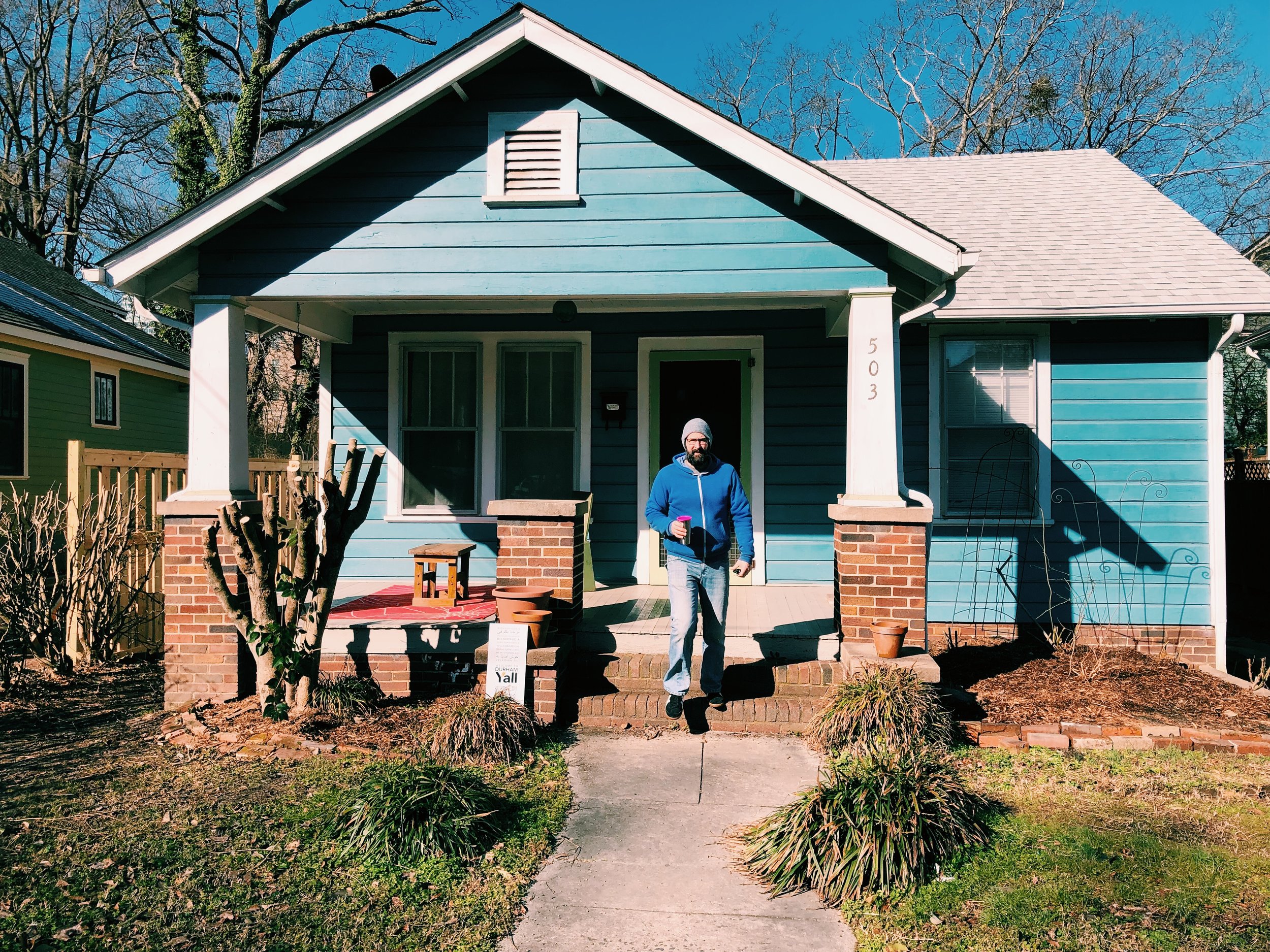 We honeymooned in Richmond, Virginia, and came back to Durham. The very next week we moved down the street from our old house! We are reveling in married life and grateful for the gifts and well-wishes we've received.
Our new address is
503 N Queen Street
Durham, NC 27701
We are registered on Amazon: https://www.amazon.com/wedding/share/allieandbrian